Find your
Next Adventure !
Overview
Tomamu is one of our favourite resorts in Japan and there are two excellent resort accommodation options for you to enjoy; the Hoshino Resort Tomamu or Club Med Tomamu both offering luxury ski in ski out accommodation.
Hoshino Resorts Tomamu consists of four high-rise buildings (The Towers (2) and Risonare (2)) all connected by covered walkways that also connect the restaurant streets and village areas, the bars, ski rental and shopping facilities, there is also a regular bus that circles the resort and accesses Mina Mina one of Japans largest indoor pools, an Onsen, a snow and ice village with ice bar, bakery, shopping and ice skating as well as connecting the resort centre base station. The facilities and features of the resort will amaze you while the beautiful birch and pine trees provide a feeling of being close to nature while the rooms in the towers provide magnificent views of the resorts and surrounding areas.
Club Med Tomamu offers restaurants and bars, gym and fitness classes, ski guiding and ski lessons, kids club and quality accommodation over three buildings that are connected to the entertainment hub which houses the main restaurant and bars, gym, locker rooms, library and lobby area, the accommodation options are great for couples or families and everything is within 5 minutes' walk through the connected walkways and corridors, location wise it's right next to Mina Mina beach pool and onsen and access to these facilities is included with your Club Med stay; you can also go to the snow and ice village and enjoy the nightly fireworks in the resort. If you are looking for a fully included stress free accommodation and want to meet new people, then club med would be a great choice for you.
The Tomamu Ski resort which is accessed directly from Hoshino resort Tomamu and Club Med Tomamu's locker rooms is a medium size resort but has plenty of skiing for all levels, it has a great beginner area with gentle base slopes and intermediate and advanced skiers are well looked after with plenty of steeper terrain and powder slopes so much so that we consider this resort a hidden gem, it features 670m of vertical and 29 runs but there is even more for advanced skiers and boarders as the resort has its own powder club to access club only tree zones as well as a cat skiing operation on an adjacent mountain that can be enjoyed mainly on weekends and public holidays.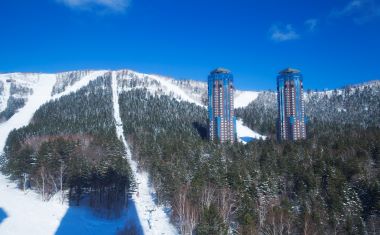 Facilities & Attractions
Tourist attractions and the latest trendy spots.
Best Time to Visit
How to Reach Tomamu
Resorts & City Guide
Pros & Cons
‌March - May
‌

WinterMarch is some of the best skiing time of the sason, on the transition to spring there are still powder days mixed in with lovely warm bluebird days and the deepest snowpak. Skiing continue through April into May with plenty of fun to be had in the completely uncrowded spring slush

‌Average Weather: Max 8.9°C | Min -12.5°C
‌June - August
‌
‌Weather: Max 23.1° C | Min 12.4° C
‌September - November
‌

Weather: Max13.1° C | Min 6.5 C
‌
Weather: Max -2.4° C | Min -16.8° C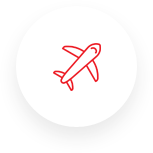 By Air
Access to Tomamu for international travellers is generally via New Chitose Airport which is about 2 hours by resort liner to and from Tomamu.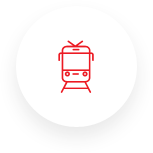 By Train
You can access Tomamu via train from New Chitose Airport, there is a Tomamu station with a resort shuttle service which will bring you to your accommodation, the train takes approx. 1 hr 15 minutes to Tomamu station with a change at Minami Chitose just after the airport station.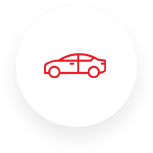 By Car
Travelling to Tomamu via the freeway from New Chitose Airport will take approx. 1.5 hours.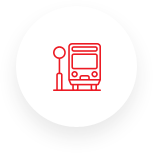 By Bus
The resort liner service in Hokkaido runs regularly to and from Tomamu the journey will take approx. 2 hours.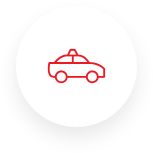 By Private Transfer
Private transfers can be arranged from New Chitose Airport for as few as 1 person in a private car or up to 40 people with a bus charter.
Below are some PDF tourist maps to help you navigate and enjoy your time at Tomamu.
Pros
Ski in Ski out quality accommodation for the whole family
International Ski School and kids club
Fully integrated with small village areas, cafes, pool, onsen, restaurants and bars all connected by resort bus and walkways, it's so much fun you won't want to leave!
Convenience is key at Club Med with guiding and lessons included as well as meals and drinks and it's a great way to meet new friends
A Powder Club and tree skiing is open for all and it's easy to find and access some of the Hokkaido's best powder runs
Lift infrastructure is convenient, fast and easy to get around in comfort
Cons
If you are after a late night apres scene, then Tomamu is not for you
Can become icy once the spring melt comes through and then refreezes overnight, so we recommend December through to early March the best time to come
Average snowfall for Tomamu
This data was collected on Tomamu at 1,239m
Review and Rating
All Japan Powder Ski Holiday' clients are given the opportunity to review their trip once they return home. These reviews are administered by a third party and as such are unfiltered by Japan Powder.