Find your
Next Adventure !
Overview
Manza Onsen is a hot spring resort town located 1800 metres above sea level, high on the slopes of Mount Shirane, in the western region of Gunma Prefecture, which is approximately 220 kilometres north west of Tokyo. Gunma prefecture shares boarders with Niigata Prefecture to the north and Nagano Prefecture to the west.
Boasting great views of Mount Asama, the mountains of Shiga Kogen and even Mount Fuji on a clear day; Manza Onsen ski resort is well known for its powder snow and healing onsens in fact it is rated in the top 3 in all of Japan.
The snow is dry and powdery with regular snow falls from December until the end of March. Manza Onsen receives an average annual snowfall of over 7 metres, which due to its location and its high elevation which means Manza receives some of the lightest and driest powder snow.
A small resort by most standards due to part of the resort closing many years ago, but there are some great off piste areas within the resort or for those wanting to hike there is untouched powder to as far as they eye can see. Although there is enough within the resort to cater for all levels of skiers and boarders with family courses to advanced powder courses, there is something for everyone.
Due to the high altitude hot spring of Manza Onsen, it has been dubbed the onsen that creates beautiful skin, the milky white water is highly popular particularly during winter. The sulphur springs are renowned for its magical healing powers and the outside baths features panoramic views of the surrounding mountain vista.
Manza Onsen is well suited to the mature traveller looking for fast access from Tokyo, a relaxing onsen experience and with easy ski in ski out access direct from the hotel locker room. Even the most avid and experienced skier or boarder will enjoy their stay here.
Facilities & Attractions
Tourist attractions and the latest trendy spots.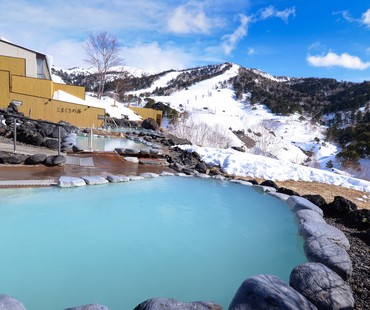 The hot springs contains acidic sulfur and the high temperature is about 80 degrees. The hot springs gush out hot water of 5,400,000 litters a day. Man
Best Time to Visit
How to Reach Manza Onsen
Resorts & City Guide
Pros & Cons
‌Spring (March - May)
‌Ski season ends around the end of March.
‌

Ave Weather: Max 12.3°C | Min 0.13°C
‌Summer (June - August)
‌The refreshing breeze is pleasant and enjoying pretty flowers at Manza in summer. You can soak in the hot water and cool down with the brisk temperatures in the high mountain.
‌

Ave Weather: Max 23.7°C | Min 14.5°C
‌AUTUMN (September - November)
‌ September and October is a great time to visit and partake in all the outdoor activities mentioned The trees of nature are turned red and yellow in Autumn Manza. The autumn leaves change colour everyday to impress visitors. Golfing and hiking in the fresh breeze and enjoy the autumn leaves.
‌

Ave Weather: Max 15.4° C | Min 5.5° C
‌WINTER (December - February)
‌‌ Manza Onsen offers skiing and snowboarding from around mid December to late March or early April. Winter in Manza offers snow and warm hot springs. Powder snow at an altitude of 1800metes is the perfect gift for skiers and snowboarders. And hot springs surrounded by snow are truly the best pleasure to heal the body after skiing and snowboarding all day.
‌

Ave Weather: Max 2.5° C | Min -8.2° C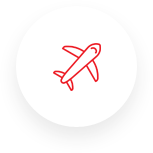 By Air
Access for international travellers is best through Narita or Haneda in Tokyo, there is an international airport in Niigata which services some major Asian hubs as well as a smaller airport in Toyama which handles domestic flights from cities in Japan.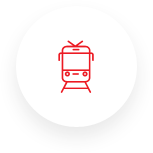 By Train
Access via Shinkansen to Karuizawa station on the Hokuriku Shinkansen from embarking from Tokyo or Kanazawa in the south via Nagano City, the Shinkansen takes approx. 1 hr 15 mins from Tokyo or 2 hrs from Kanazawa. There is a hotel bus from Karuizawa to Manza Onsen resort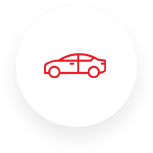 By Car
Myoko Kogen can be reached via car from Major Cities, however it is a long drive of over 3 hours from Tokyo. Cars can be hired from Karuizawa, Nagano City, Tokyo or Kanazawa and expressway toll roads make driving convenient.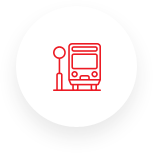 By Bus
Regular buses operate to Manza Onsen from Karuizawa all year round, please check with us for schedules and advanced bookings to match your Shinkansen and flight times.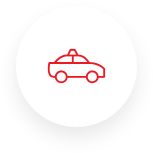 By Private Transfer
Private or Shared VIP transfers can be arranged from Narita or Haneda Airport along with Private transfers from Nagano or other resorts in Nagano or Niigata
Below are some PDF tourist maps to help you navigate and enjoy your time at Manza Onsen.
Pros
Manza base sits at 1800 metres meaning a reliable base and good quality powder snow right through March
Rates as one of the top 3 Onsens in Japan
Great Value luxury accommodation which is perfect for a couples escape
Easy Access from Tokyo via Karuizawa on the Hokuriku Shinkansen
Romantic Mountain Vista with wonderful view of the surrounding landscape
Mixed outside bath where the lady with a towel can enjoy and onsen with her partner
Ski in ski out from the locker room ie no walking to lifts as you ski down to it
Cons
Relative small resort however as a vast area for piste fun
Limited nightlife activity ie no apres scene, restaurants or bars you can easily access in the village, there is a buffet with a huge selection of western and Japanese food which changes nightly and a Chinese restaurant as well as cafe and bar with the hotel
Ski school is private lessons only in English
Average snowfall for Manza Onsen
This data was collected on Manza Onsen
Review and Rating
All Japan Powder Ski Holiday' clients are given the opportunity to review their trip once they return home. These reviews are administered by a third party and as such are unfiltered by Japan Powder.