Find your
Next Adventure !
Overview
Hiroshima's origins can be traced to the end of the 6th century and the beginning of the 7th century when the area began to prosper, during this time the area was originally divided into two regions, Aki and Bingo.
In 1589, a regional warlord during the Sengoku period, gave Hiroshima its name and built a castle in what is now Hiroshima City. In August 1945, the city of Hiroshima was destroyed instantaneously when an atomic bomb was dropped on the city, near the end of World War 2.
The closest surviving building to the bomb's detonation was the Atomic Dome, which is now part of the Hiroshima Peace Memorial Park. The park features a peace pagoda, a children's peace monument which is a statue dedicated to the memory of the children who died as a result of the bombing.
The statue is of a girl who died from radiation from the bomb, she believed that if she folded 1000 paper cranes she would be cured. To this day people from around the world, fold cranes and send them to Hiroshima where they are placed near the statue. Hiroshima was proclaimed a city of peace by the Japanese parliament in 1949.
Hiroshima has plenty of sites and things to explore including; Hiroshima Peace Memorial, Hiroshima Peace Memorial Park, Hiroshima Castle, Gardens, Shrines, Museums, the Children's Peace Monument and Itsukushima (Miyajima Island).
Your Japan Powder Package can be customised to suit your requirements and can inclusive of accommodations, transfers, JR Rail Passes and Tours as required.
Facilities & Attractions
Tourist attractions and the latest trendy spots.
Best Time to Visit
How to Reach Hiroshima
Resorts & City Guide
Pros & Cons
‌SPRING (March - May)
‌Humidity and temperatures combines to make this season feel moderate. Highs range from 25.8° C and 12.5° C with warmer temperatures in the later months. Rain is somewhat common with 7 to 8 days of significant precipitation per month. Spring is fairly slow for tourism, which makes it a good time for those looking for deals.
‌

Weather: Max 19° C | Min 9° C
‌SUMMER (June - September)
‌ ‌The middle- year months have every comfortable weather with high temperatures that are quite warm. These months see the most precipitation with 7 to 10 days of precipitation pre month. Jun-August is the busiest season for tourism in Hiroshima, so lodging and other accommodations may cost more than usual.
‌

Weather: Max 29° C | Min 21° C
‌AUTUMN (September - November)
‌ Fall daily range from 31° C and 15° C, which will feel very nice given the humidity and wind. It rains or snows a significant amount: 5 to 6 days per month. Tourism is the slowest during these months due to the weather, so hotels may be affordable priced.
‌

Weather: Max 22° C | Min 14° C
‌WINTER (December - February)
‌‌ Weather is too cold this time of year in Hiroshima to be enjoyable for warm weather travellers. The average high during this season is between 12.6° C and 9.4° C. On average, it rains or snows a fair amount: 4 to 6 times per month. These times of year are the second busiest with tourists.
‌

Weather: Max 11° C | Min 2° C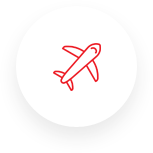 By Air
The relatively small Hiroshima Airport (HIJ) is located 31 miles east of the city and runs regular flights to and from Tokyo, Sapporo, Sendai, Okinawa, as well as China, Taiwan, and South Korea. Visitors from further afield will need a connecting flight to Hiroshima from one of these locations. The Limousine Bus from the airport to Hiroshima Station takes about 45 minutes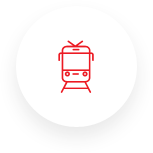 By Train
The infamous Japanese bullet trains, known as Shinkansen, are run by Japan Rail, the largest train operator in the country. Shinkansen will get you from Tokyo to Hiroshima in four hours, and from Osaka in a mere two hours. It's a very scenic route winding along Japan's southern shore to western Honshu. Hiroshima Station is located at 1 Matsubarachō in the Minami-ku district.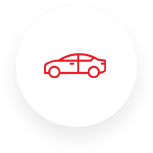 By Car
It is possible to drive to Hiroshima from other big cities in Japan, however, it will take longer than the Shinkansen bullet trains. You'll need to follow Sanyo Expressway along the southern coast, in much the same direction as the trains as trains from Osaka, Kobe, and Okayama.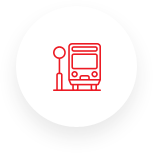 By Bus
The recently remodelled and refurbished Shinkansen Exit (north side) of Hiroshima Station. Willer Express run regular highway buses to Hiroshima from popular cities such as Kyoto, Osaka, and Tokyo. These include night bus services from Kyoto, Kobe, and Osaka. Bus is a cheap way to travel but be prepared for a long journey; for example, from Tokyo, the journey will take around 12 hours.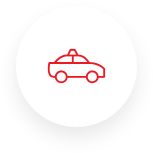 By Private Transfer
Some private taxi company provide a Door-to-Door service*. They will pick you up from the Airport terminal you arrived and take you to the address where you want to go to. On departure we will pick you up from your address and drop you off at the terminal from which your flight leaves.
Pros
Experience Japanese culture
Hondori Shopping arcade
Shrines and Hiroshima Castle
Educates you about history
UNESCO World Heritage Site, the Itsukushima Shrine on Miyajima Island
Japanese pancakes
Cons
Less attractions
There is no 5 star hotel
Review and Rating
All Japan Powder Ski Holiday' clients are given the opportunity to review their trip once they return home. These reviews are administered by a third party and as such are unfiltered by Japan Powder.